Visiting wineries and vineyards have become a favorite pastime of travelers. But major cities like Washington DC simply can not offer that indulgence. Typically the best you will find in a large metropolitan area is a tasting room. As lovely as that may be, it is a vastly different experience from a winery visit.
But visitors to Washington DC and Washingtonians are in luck. Step outside the metro area and you will discover some amazing wineries within an hour of Washington DC and all in Northern VA. Visit them individually as day trips or add them to your Northern Virginia road trip.
We asked bloggers to share their favorite Northern Virginia wineries within an hour of Washington DC. Here are their favorite NOVA wineries.
Wineries in Fairfax County VA
The Winery at Bull Run
There are so many great day trips from DC, but wineries might just be the dreamiest summer escape from the city! The Winery at Bull Run in Fairfax County is one of the more easily accessible wineries in Northern Virginia. Situated just 28 miles from Downtown DC, you can drive straight out on Interstate 66 and reach the winery in under 40 minutes (depending on traffic, of course).
As with many Virginia wineries, The Winery at Bull Run is filled with a fascinating history.
Back in the early 1800s, Dr. Daniel Norborne Norton cultivated a grape that proved to be hardy enough for the Virginia climate. Norton grapes are what The Winery at Bull Run grows today — exclusively.
As you sip your glass of history, you'll be gazing out across the vineyard in the direction of Bull Run, a creek that carries a very big piece of US history. On this land in July of 1861 and then again in August of 1862, two very significant battles were fought during the US Civil War.
Today, the scene here is calm and serene, with a grassy knoll covered in grape vines stretching out from the vantage point of the winery.
Picnic benches are plentiful and also offer umbrellas to shield you from the summer heat. There is also seating in the shade on the patio and indoors in the tasting room. All of these areas are 21+ so head to the family-specific area if you're bringing kids.
Note that pets are not allowed at the winery.
By Amanda, Hey! East Coast USA
Paradise Springs
Paradise Springs Winery is one of the most popular wineries in Northern Virginia. It is located in the historic town of Clifton in Fairfax County, which makes it one of the closest and easiest wineries to visit in the Washington, D.C. metropolitan area.
The winery features a cozy, wood-beamed interior, plus a lovely wooded outdoor setting with picnic tables and open fields for lounging.
Paradise Springs features a large selection of excellent wines, including Viognier, Chardonnay, and Melange (a smooth red blend).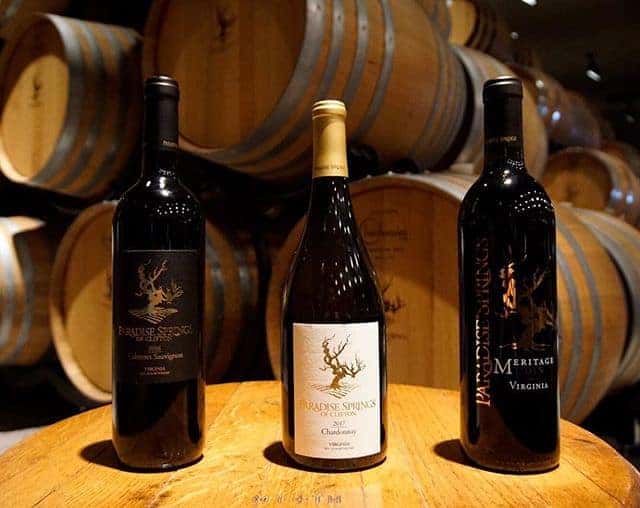 The winery serves a light menu of cheeses, meats, crackers, baguettes, and spreads. There is also a food truck on-site to take your lunch order.
The winery hosts a number of special events, including Bingo Nights, Trivia Nights, Wine Club Thursdays, and Outside Movie Nights in the summer. They also feature live music on select Saturdays and Sundays.
Please note that, due to its popularity, parking can quickly fill up, particularly on weekends during nice weather. You can help alleviate the stress of driving and parking by booking a private or group wine tour, however, note that you will need to give Paradise Springs advanced notice if you are coming in a group van or bus.
By Merry Allison, Virginia Vacation Guide
Prince William County Wineries
The Winery at LaGrange
The Winery at La Grange is one of the closest Virginia wineries to Washington DC. Located about 45 minutes from the DC line (on the odd chance there is no traffic) just off I-66, the winery's land is the first real rural area outside the city. La Grange features a beautifully restored brick manor from the 1700s on a sprawling property of rolling hills and oak trees. Legend has it that the manor is haunted by the original owner, so hopefully, you're not afraid of ghosts. Picnic tables are scattered around for your wine-tasting pleasure.
La Grange makes some solid wine, and their prices are reasonable for how close they are to the city. One particular wine to try is the Viognier, one of the more affordable on the menu. Buy a bottle to enjoy on-site or do a tasting of numerous wines of your choice. At La Grange, you can bring your own food and have a picnic or order a cheese-tasting platter from their snack menu.
The winery is dog and child friendly, and you have plenty of space to spread out so you'll never feel like it's too crowded. La Grange is ideal for nice, warm days, as indoor space is limited. They do accept reservations, though, should you wish to have the table of your choosing. So sit back, relax, and enjoy your day at La Grange!
By Chris Heckmann, aroundtheworldwithme.com
Magical Loudoun County Vineyards
Bluemont Winery
Bluemont Vineyards is another notable northern Virginia winery. It is located in Bluemont, VA, which is in Loudoun County.
The vineyard sits high on top of a hill and features spectacular views of the surrounding countryside, with rolling green hills as far as the eye can see.
The vineyard itself features several buildings: The Reserve, The 951 Tasting Room, The Stables, and The Cidery. As a result, there are many different sitting areas throughout the property, including an expansive outside patio with tables, umbrellas, and gorgeous views.
Bluemont is a popular spot for special events, including weddings and birthday parties.
The winery offers several wine flights, including a White Wine Tasting Flight, a Red Wine Tasting Flight, and a Signature Wine Flight, which features two whites and four reds from their signature collection. Some of their wines feature fanciful names like "The Cow" and "The Goat."
Bluemont serves a menu of light food items, including a charcuterie board and mini sliders.
You can even stay overnight at The Cottages at Bluemont. The cottages are perfect for a relaxing or romantic weekend winery retreat. Each room features lovely views of the surrounding countryside. Some of the cottages are dog-friendly and have full kitchens.
By Merry Allison, Virginia Vacation Guide
Stone Tower Winery
Stone Tower Winery in Hogback Mountain in Loudoun County, Northern Virginia, is scenically beautiful. The winery, along with its vast expanse of vineyards, is owned by the Huber family. This picturesque estate is spread across 300 acres and surrounded by mountains. Stone Tower Winery produces some world-class bottles of wines, such as sparklings and rosés.
The winery has two tasting rooms. The Harvest Barn tasting room at ground level is open to all visitors. The Tower View Tasting room is located at a higher level where you can view the entire estate. However, this is a club members-only room.
This family-operated winery has a team of specialists maintaining the perfect conditions to produce refined, high-quality wines. The estate is managed perfectly to manufacture new and old wines. A notable wine is the 2019 owner's namesake Kristi Chardonnay. Visit with your friends and family to get a taste of delectable wines from their wide collection.
Stone Tower Winery is the perfect place to celebrate special occasions like cocktail parties, weddings, and birthdays. They rent out their well-furnished spacious Summit Room and Wild Boar Hall for these purposes.
Stone Tower Winery is open Thursday to Monday from 11 am to 6 pm. Groups of 8 or fewer do not require a prior reservation. You can order food at their tasting rooms, as outside food is not allowed.
By Ruma, newenglandcities.com
Enchanting Stafford County Vineyards
Potomac Point Winery
Tucked away in the heart of Northern Virginia, Potomac Point Winery offers panoramic views of twenty-three acres of Viognier, Petit Manseng, Petit Verdot, and Merlot varietals. This European-inspired winery, vineyard, and bistro are sure to provide a memorable experience whether you come for an intimate tasting for two in their tasting room or a grand ballroom wedding with 150 guests.
During the summer months take a seat on the veranda and sip a glass of Potomac Point's award-winning 2020 Norton or try a 2019 Merlot. Or perhaps you'd prefer to enjoy a flight or bottle at a picnic table (reservations suggested) in a field. Stroll around and snap a few pictures among the grape vines or one of the winery's art installations; the LOVE Barrels or the butterfly mural located on the backside of the picnic pavilion.
No matter what time of year you visit this stunning winery you can count on it being an extraordinary occasion. This four-season vineyard offers unforgettable seasonal experiences. Northern Virginia Magazines includes Potomac Point Winery in their roundup of "Top 5 Virginia Wineries Are Even Better to Visit During the Winter" for 2022.
Schedule a wine tasting in one of their private heated tasting tents or reserve one of their outdoor firepit tables for you and a group of friends. Enjoy a guided wine tasting of eight different Potomac Point Wines in their beautiful tasting room. Reservations are recommended for experiences.
Washingtonian Magazine ranks Potomac Point Winery as one of the "Top 30 Wineries Worth the Trip." Make the drive. You won't be sorry.
Like this Post?? Share it Now!