I admit my expectations of Tijuana were low. My knowledge of the city came from a few people I know who have been there but mostly from television and movies. Let's face it the picture painted by Hollywood isn't flattering. They portray it as seedy. A place that is dangerous. In my mind, this is where you go because anything goes, legal or illegal. I expected it to make the Big Easy look like Sunday school.
What I found was in total contrast to what I imagined. Tijuana is no longer a place to visit only for its anything-goes atmosphere. Today, the city offers fine dining, museums, beaches, and even some kid-friendly attractions.
Is Tijuana Safe?
Probably one of the first questions you have about Mexico and Tijuana specifically is whether or not it is safe to travel there. Safety is a funny thing. If you have a bad experience somewhere you will likely conclude it is dangerous. Whereas a person visiting the same city or country who has a splendid time will probably say it is safe.
Like any city, there are places you shouldn't go. And there are times of day that are safer than others. But for the most part, you have nothing to worry about that you wouldn't in any other place around the world or the US for that matter. Use common sense and caution like you would in any large city. Be aware of your surroundings and keep your valuables secured. These are just good practices.
Getting Across the Border into Mexico at San Ysidro
You may have heard that crossing the border at the San Ysidro Port of Entry is a miserable experience. That has not been my perception. With roughly, 100,000 crossings per day including around 70,000 vehicles and 20,000 pedestrians it is undeniably busy and a bit frenzied.
There are multiple ways you can make this crossing. Most people visiting Tijuana will either fly in or cross the border south of San Diego at the port of entry between San Ysidro, California and Tijuana Mexico.
Many people coming from the United States will park in one of the lots on the San Ysidro side of the border and then make their way on foot. (Lots range in price from about $21 to $25 US per day). This can be a fun and interesting experience, especially for Americans. We are more accustomed to driving from state to state than country to country like those from Europe. If you are going to walk across the border, you want to do this at an official pedestrian border crossing of course with a passport in hand.
There are four border crossings: PedEast, PedWest, Otay Mesa, and Cross Border Xpress (CBX)
For many visitors, PedEast is a convenient option. It is located near the San Ysidro Trolley Station and it's open 24/7. It is considered the main pedestrian crossing.
PedWest is smaller and is open from 4 am until 10 pm. You will find it near the Outlets At The Border in San Ysidro.
Your next option is Otay Mesa a small 24-hour crossing connecting Otay Mesa in California with Tijuana's Otay Centenario neighborhood.
And finally, you can cross using the Cross Border Xpress (CBX), a sky bridge linking Tijuana's General Abelardo L. Rodriguez International Airport (TIJ) with the U.S. side of the border. But this is only an option if you are flying out of Tijuana airport.
International visitors to Tijuana may opt to fly directly into General Abelardo L. Rodriguez International Airport (TIJ). Despite being an international airport, the Tijuana airport does not accept flights from the US so those coming from the United States will need to fly into some other airport, most likely San Diego.
And of course, you can drive across the border in San Ysidro, one of the busiest ports of entry in the world. Whether you drive your own car or a rental car is up to you. But if you are visiting the west coast from another part of the country there is a good chance you have a rental car. Here's what you will need to know about crossing the border into Mexico with a rental vehicle.
Renting a Car to Travel to Tijuana
When it comes to driving rental cars to Mexico, there are some important considerations to keep in mind. Firstly, one-way rentals to Mexico are generally not possible. Rental car companies do not allow you to pick up a car in the U.S. and return it in Mexico. Even some major companies strictly prohibit bringing rental cars from the U.S. into Mexico.
However, there are some rental companies that permit cross-border travel but often at a significantly higher rate. And often only a limited number of locations that can handle reservations from the United States to Mexico with a return scheduled back in the United States.
There are three important points to note: add-on Emergency Sickness Plan coverage from the rental company is always invalid in Mexico. Second, renters must purchase Mexican auto insurance. Lastly, some companies have a 250-mile limitation for driving in Mexico.
When crossing the border into Mexico using a rental car you will need the following documentation: a letter of permission from the rental company, a valid driver's license (for the person driving the vehicle), a valid passport, a tourist visa (if necessary), and your car rental documentation.
More on Auto Insurance and the Law in Mexico
There does seem to be some disagreement over whether the insurance must be issued by the rental agency. I would say you will likely need to adhere to whatever the company dictates. But the following are some guidelines for insurance and some important legal considerations.
When driving a rental car to Mexico, the most crucial aspect to consider is insurance. Your U.S. auto insurance is not valid there, so you must obtain Mexican liability insurance for the rental car. It is important to note that Mexican car insurance should be issued by a Mexican company.
For adequate coverage, it is recommended to have liability insurance ranging from $300,000 to $500,000. In case of an accident, you could be held responsible for damages and might face imprisonment if unable to fulfill your financial obligations. The minimum coverage required by Mexican law is $300,000.
Additionally, remember that Mexican law does not recognize passenger liability in personal vehicles, so medical coverage is not automatically included in your liability insurance.
To navigate legal issues in Mexico, it is beneficial to have access to bilingual legal assistance. Given that Mexico considers traffic accidents both a civil and criminal offense, having someone knowledgeable about Mexican law can be invaluable. You can purchase Legal Assistance coverage which will cover the cost of legal representation, court fees, and bail bonds.
Finally, having roadside and travel assistance insurance can help you handle various emergencies including lost passports, contacting your embassy, dealing with medical issues, or facing vehicle-related emergencies.
Make Sure you are Pronouncing the City's Name Correctly
I bet you have been saying "Tee-a-wa-na" your entire life. Why is that? Probably because that is how you typically hear it said. Would it surprise you if I told you the way you have been pronouncing the name of this city is wrong? Well, the correct pronunciation is "Tee-wa-na." Yup, you've been adding an extra syllable. But you can just call it TJ if you like.
TJ has Beaches and a Boardwalk
That's right! Tijuana is a coastal town like San Diego. There is a boardwalk that runs along the ocean's edge. In the morning, like in any other coastal community, you will find joggers out for their run.
Sadly, though, there is a huge steel divider that runs out into the ocean that separates Mexico from the US.
There are so many reasons I encourage you to visit here. It may change the way you think about immigration. It may change your perception of our "open borders." And it may remind you of your humanity. Just to name a few.
Take in the Street Art in TJ
In addition to the giant hearts near the boardwalk, you will find street art throughout the city and even before entering. All along the border at the San Ysidro Port of Entry, there are large murals. And downtown you will find colorful and eclectic public works of art. If you enjoy street art you will surely enjoy the collection in Tijuana
Tijuana has Some Amazing Places to Eat and Drink
Telefonica Gastro Park
If you are with a group that just can't agree on what to eat, Telefonica Gastro Park located at Boulevard Agua Caliente 8860 in Centro, is the solution. Here you will find a collection of food trucks that offer up gourmet food that runs the gamut from fish tacos and ramen to steaks and octopus.
This is a great choice for families. The adults get the quality food they crave in a relaxed kid-friendly setting. And, with so many choices there is sure to be something to please everyone on a budget.
Try the Molcajete at La Tradicion
If you are not familiar with Molcajete it is a stone vessel filled with steaming hot deliciousness. La Tradicion located in the delightful setting of Plaza Santa Cecilia offers three types of Molcajete: Tradicional, Baja Tradicion, and Del Patron. We tried the Traditional and the Baja.
The traditional variation is chicken, chorizo, tequila shrimp with pico de Gallo, and more. In the Baja, you'll find delicacies from the sea including shrimp and octopus. Both are served with warm flour tortillas made on-site.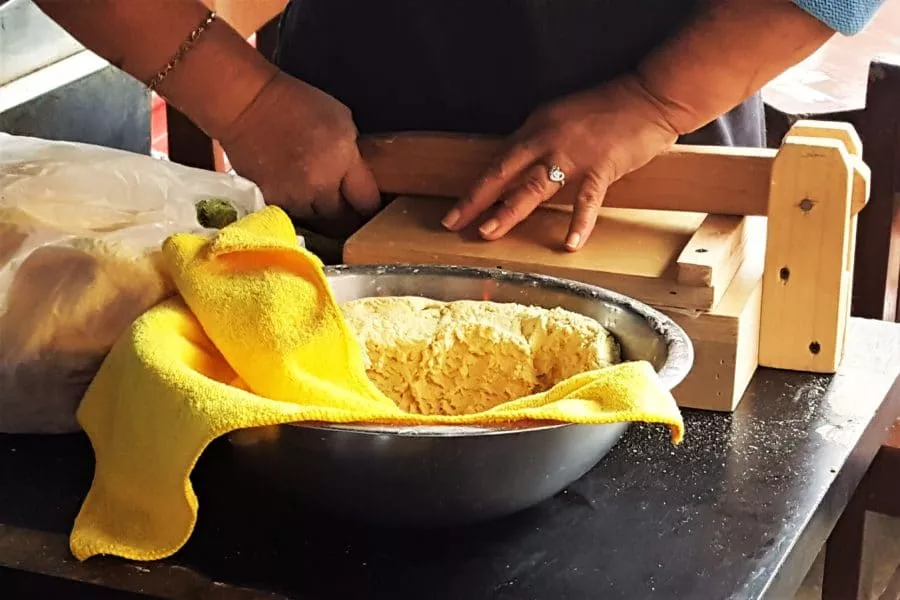 TIP: If the Mariachi bands come around, it is alright to have them play but be sure you have negotiated the price in advance. Some are crazy expensive but it's also an enjoyable experience.
Dine in the Gastronomic District
Over the past decade, food has been putting Tijuana on the map. They now have an established gastro district that extends from downtown to Zona Río on Avenida Sonora in the Chapultepec area.
Enjoy a Caesar Salad Where it Originated
If you are a Caesar Salad aficionado or want to be able to tell your friends that you had a Caesar salad where it originated, then Caesar's (located at Revolución Avenue between 4th and 5th Street) is the place to go. With claims that they invented the Caesar salad, you will not find a more authentic dish.
Your salad is prepared at your table with whole, not shredded romaine leaves, fresh egg, chopped anchovies, freshly squeezed lime, and crushed garlic by one of their friendly servers. The menu here extends far beyond salad but the Caesar salad makes them famous.
Try Authentic Mexican Beer at Norte Brewing Company
Tijuana is home to several craft breweries. We visited Norte Brewing Co. While not the easiest place to find, located on the 5th floor of the Foreign Club parking garage on 4th Ave between Revolution and Constitution, the brew and the views are worth it.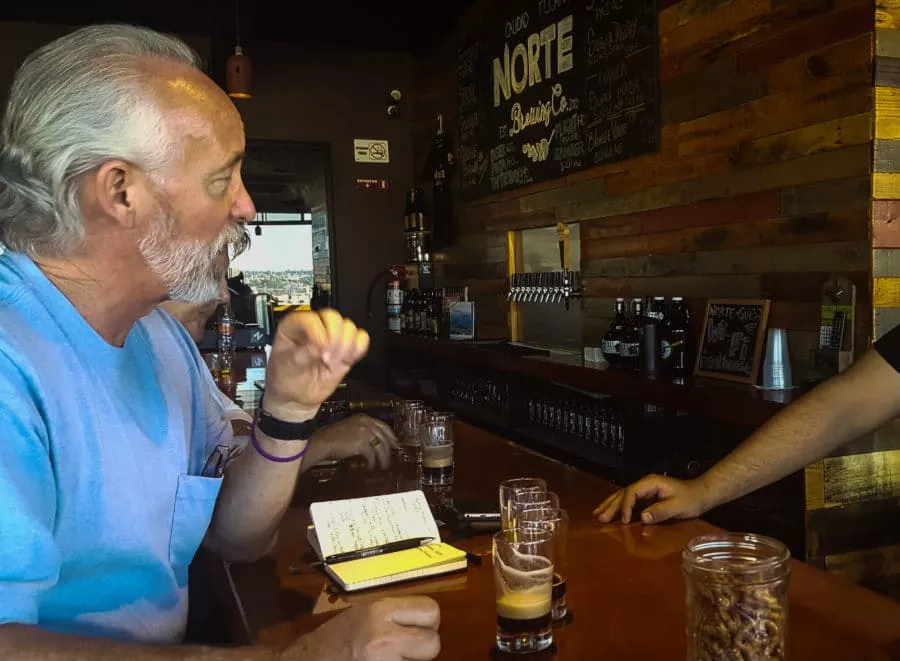 A former strip joint, Norte has stayed true to its roots with beer names such as Escort Blonde Ale, Sugar Daddy Chocolate Oatmeal Stout, and Cougar Amber Ale. They even kept the pole in the center of the room. We were there in the afternoon so the place was rather sedate but perhaps that is not the case when in full swing (pun intended).
Visit Mercado Hildago
In my opinion, a trip anywhere is incomplete without a visit to the local market. Mercado Hildago is a nice size market with a blend of the authentic and the phony for the unsuspecting tourist. Here you will find meats and cheeses, produce, spices, piñata, and local delicacies including crickets. (Try the crickets)
Stop by the coffee shop that is located beneath the chapel, El Hidalgo, Expendio De CAFE. Even on a hot day, I recommend a cup of their authentic Mexican Mocha.
Visit one of Tijuana's Museums
Tijuana Cultural Center (CECUT)
This modern complex brings together, fine and performance art, cultural exhibits, education, botanical gardens, and even an IMAX Theatre. With several galleries under one roof and a theatre, Tijuana Cultural Center (CECUT) typically has multiple events occurring at any given time.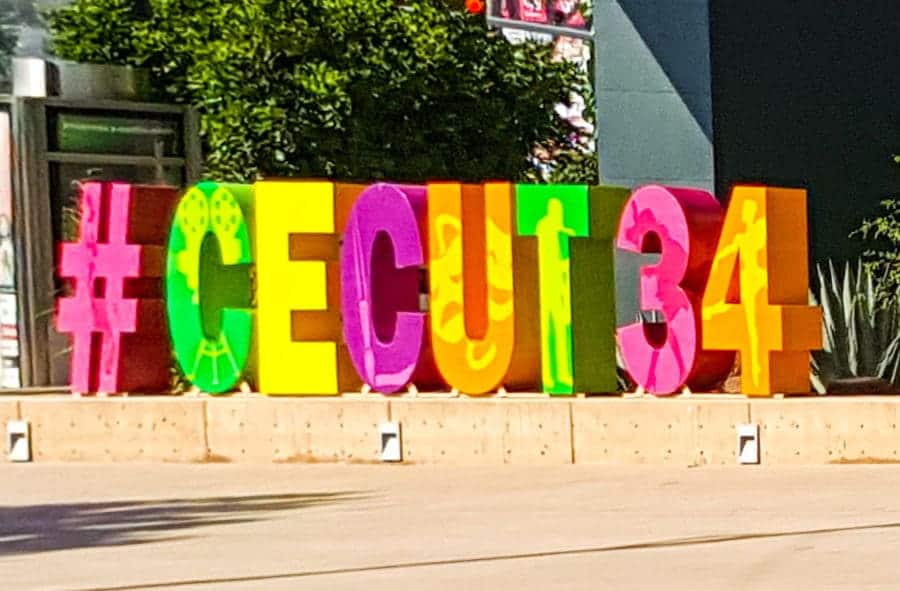 When we visited, there was a ceramics exhibit in the main gallery and one of the small spaces had the works of an Iranian artist.
If you find you need to stretch your legs during a ballet or need some fresh air, step out to the botanical gardens. Here you will find florae and faunas common to the area and replicas of ancient Mayan artifacts. Be sure to look for the pond with the turtles.
Tijuana Museum of History
You can find the Tijuana Museum of History in Old Tijuana, the historic center of the city. The museum is located in the city's former municipal building. As the name implies the museum is dedicated to the city's history beginning with indigenous people on up to current pop culture.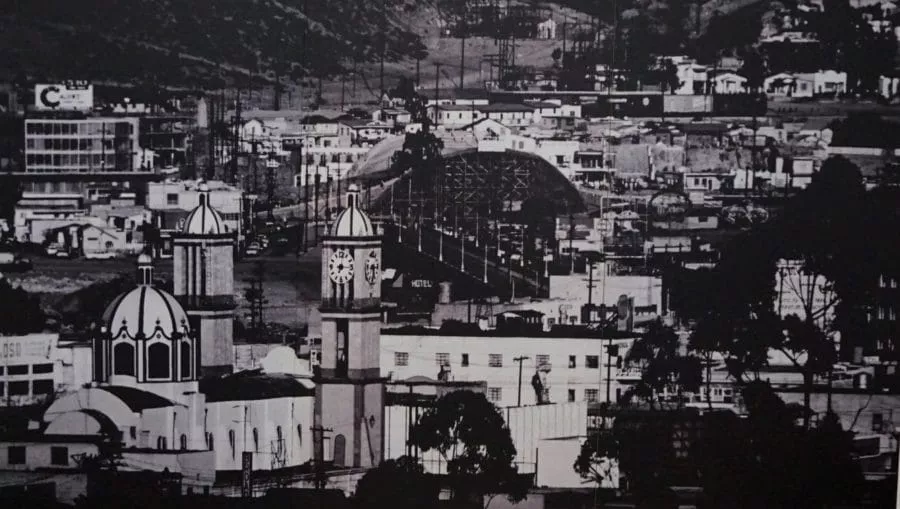 The museum has regular installations. While we were there, they had an exhibition on the people of Tijuana and their relationship and reliance on the river.
Finally, in an adjacent building, you can research the archives. This is where you might go if you were trying to learn more about your ancestry.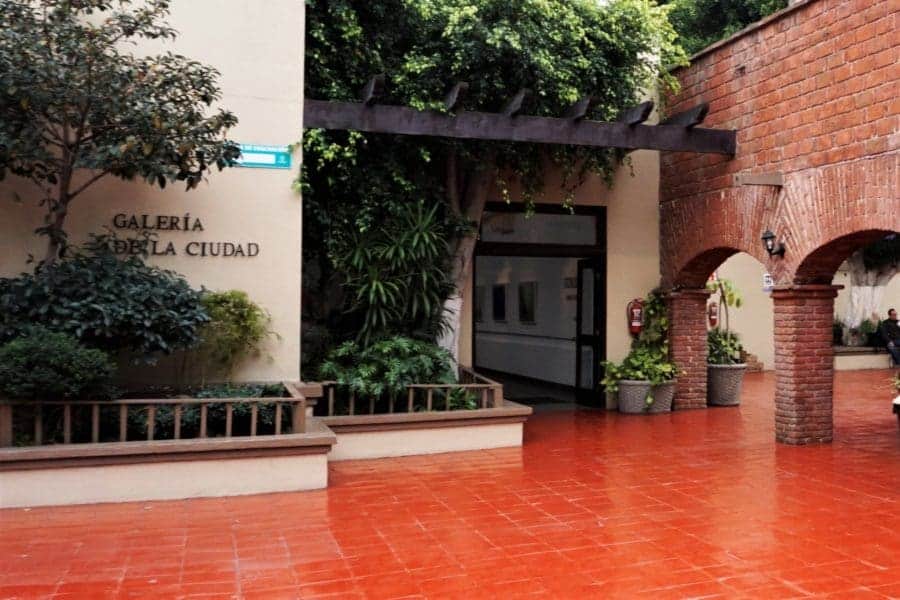 MULLME
This is a different kind of museum. Focused on pop culture through the generations, this MULLME offers something for every member of the family.
Each floor of this three-story museum is dedicated to a different theme. The first floor is dedicated to collectibles. Here you will find all the promotional items and memorabilia from your youth, such as Pokémon cards, Pogs, Happy Meal toys, Bobbleheads, action figures, trains, and more.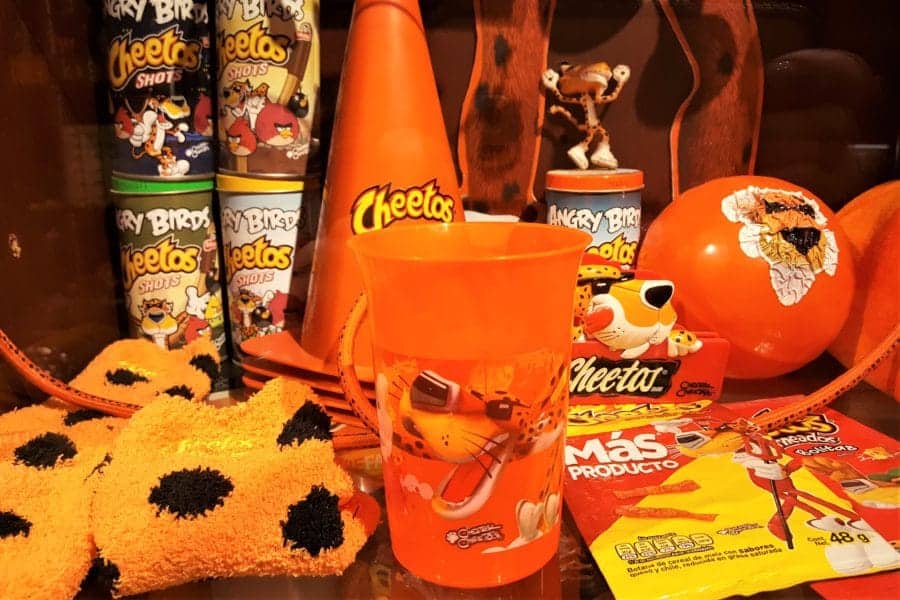 The second floor is dedicated to the history of Lucha Libre, which is more than a sport, it has become an integral part of the culture. The museum exhibits a massive collection of Lucha Libre masks and costumes, many of which have been worn in actual bouts. Some still carry the evidence of a brutal battle in the form of tears and even blood stains.
Finally, on the upper level, you will find rotating installations. When I visited, the installation was dedicated to Mexico's 500-year history of Bullfighting. This was done through a collection of colorful paintings by the artist Jose Chavez whose works capture the spectacle. As an aside, bullfighting has been banned in many parts of Mexico.
Now that I've set the record straight, I hope next time you are in San Diego, you will consider hopping the border for a visit to this interesting and dynamic city. Here are some additional things to do while there. Hopefully, you will love it so much that you will want to extend your stay by vacationing in Baja California in Mexico.
What did I miss? Is there something wonderful you know about Tijuana that I did not include?? Tell me in the comments.
Like this Post?? Share it Now!