If you have a passport, theoretically, you can hop the line between San Diego and northern Baja Mexico in just a matter of minutes or hours (depending on the lines at the border crossing). So, traveling between the two countries is not a huge deal once you have made it to the west coast. After all, many people make the crossing daily for work or family.
**Disclaimer: This was a hosted stay, however, all opinions are my own. I strive to provide my readers with my most authentic sentiments.
However, if you want to get a feel for San Diego, Tijuana, and Rosarito you should probably allow a day or maybe a little more for each. This itinerary is based on spending a day in each San Diego, Tijuana, and Rosarita. After spending your first day exploring San Diego, you will want to make your way to the border early the following morning to allow enough time to get into Mexico and still have plenty of time in Tijuana before making your way to Rosarito.
While this might make for a long day and a tight schedule, it is doable. However, if you have the time, you might consider staying overnight near Tijuana and making the trip to Rosarito early in the morning.
Where is Baja California?
Let me give you the lay of the land as they say. San Diego is the southernmost city in California, USA. This is simple as most people have a general idea of where San Diego is located. However, Baja California in Mexico seems to be a source of misunderstanding for non-Californians. I admit to being a little confused myself.
The mystification may be attributed to the fact that sometimes you will hear the area south of the border on the long peninsula below San Diego as both Baja California and Baja Mexico. I can clear this up with a brief history, geography, and Spanish lesson.
First, at one time all of California was part of Mexico. After the Mexican-American War (1848) what we call California today became part of the United States. The peninsula just south of San Diego bordered by the Pacific Ocean and the Sea of Cortez remained part of Mexico and became known as Baja California.
In Spanish, Baja literally means "low." After the war, California split into two parts Alto, or "high" and Baja "low." Now, of course, we don't call California, "Alto California" but hopefully this helps to clarify where one ends and the other begins. After all, they aren't just two different states they are different countries each with its own money and government and requiring a passport. It's kind of important to understand the distinction.
Now that you have the lay of the land let's get to crossing the board at San Ysidro before I circle back to things to do in San Diego, Tijuana, and Rosarito. I'm organizing the article this way because if you plan to make this trip there may be a bit of advanced planning necessary on your particularly when it comes to renting a car, insurance, and other legal requirements.
Crossing the Border from San Diego into Mexico at San Ysidro
You may have heard that crossing the border at the San Ysidro Port of Entry is a miserable experience. That has not been my perception. With roughly, 100,000 crossings per day including around 70,000 vehicles and 20,000 pedestrians it is undeniably busy and a bit frenzied.
There are multiple ways you can make this crossing. Most people visiting Tijuana will either fly in or cross the border south of San Diego at the port of entry between San Ysidro, California, and Tijuana Mexico.
Many people coming from the United States will park in one of the lots on the San Ysidro side of the border and then make their way on foot. (Lots range in price from about $21 to $25 US per day). This can be a fun and interesting experience, especially for Americans. We are more accustomed to driving from state to state than country to country like those from Europe. If you are going to walk across the border, you want to do this at an official pedestrian border crossing of course with a passport in hand.
There are four border crossings: PedEast, PedWest, Otay Mesa, and Cross Border Xpress (CBX)
For many visitors, PedEast is a convenient option. It is located near the San Ysidro Trolley Station and it's open 24/7. It is considered the main pedestrian crossing.
And of course, you can drive across the border in San Ysidro, one of the busiest ports of entry in the world. Whether you drive your own car or a rental car is up to you. But if you are visiting the west coast from another part of the country there is a good chance you have a rental car. Here's what you will need to know about crossing the border into Mexico with a rental vehicle.
PedWest is smaller and is open from 4 am until 10 pm. You will find it near the Outlets At The Border in San Ysidro.
Your next option is Otay Mesa a small 24-hour crossing connecting Otay Mesa in California with Tijuana's Otay Centenario neighborhood.
Because you will be traveling from San Diego or perhaps some other part of the Southwestern United States by car, I won't go into the fourth option which applies to international air travelers from outside the US. If you need this information you can find it in my article Visiting Tijuana: What You Need to Know Before You Go.
Renting a Car to Travel to Tijuana
When it comes to driving rental cars to Mexico, there are some important considerations to keep in mind. Firstly, one-way rentals to Mexico are generally not possible. Rental car companies do not allow you to pick up a car in the U.S. and return it in Mexico. Even some major companies strictly prohibit bringing rental cars from the U.S. into Mexico.
However, there are some rental companies that permit cross-border travel but often at a significantly higher rate. And often only a limited number of locations that can handle reservations from the United States to Mexico with a return scheduled back in the United States.
There are three important points to note: add-on Emergency Sickness Plan coverage from the rental company is always invalid in Mexico. Second, renters must purchase Mexican auto insurance. Lastly, some companies have a 250-mile limitation for driving in Mexico.
When crossing the border into Mexico using a rental car you will need the following documentation: a letter of permission from the rental company, a valid driver's license (for the person driving the vehicle), a valid passport, a tourist visa (if necessary), and your car rental documentation.
More on Auto Insurance and the Law in Mexico
There does seem to be some disagreement over whether the insurance must be issued by the rental agency. I would say you will likely need to adhere to whatever the company dictates. But the following are some guidelines for insurance and some important legal considerations.
When driving a rental car to Mexico, the most crucial aspect to consider is insurance. Your U.S. auto insurance is not valid there, so you must obtain Mexican liability insurance for the rental car. It is important to note that Mexican car insurance should be issued by a Mexican company.
For adequate coverage, it is recommended to have liability insurance ranging from $300,000 to $500,000. In case of an accident, you could be held responsible for damages and might face imprisonment if unable to fulfill your financial obligations. The minimum coverage required by Mexican law is $300,000.
Additionally, remember that Mexican law does not recognize passenger liability in personal vehicles, so medical coverage is not automatically included in your liability insurance.
To navigate legal issues in Mexico, it is beneficial to have access to bilingual legal assistance. Given that Mexico considers traffic accidents both a civil and criminal offense, having someone knowledgeable about Mexican law can be invaluable. You can purchase Legal Assistance coverage which will cover the cost of legal representation, court fees, and bail bonds.
Finally, having roadside and travel assistance insurance can help you handle various emergencies including lost passports, contacting your embassy, dealing with medical issues, or facing vehicle-related emergencies.
Now that you have the information you need to make certain that you are prepared when you cross the border, we can get into the fun stuff: Things to do in San Diego, Tijuana, and Rosarito.
Fun Things to Do in San Diego
If you enjoy maritime destinations, military history, gorgeous beaches, stunning sunsets, friendly people, good food, and near-perfect weather San Diego may be your kind of town.
Take A Hornblower Cruise from the Grape Street Pier
If you happen to be in the city on Sunday morning, start your day with a Hornblower cruise (Departs from Grape St. Pier 1800 N. Harbor Dr.) it is a delightful way to Brunch as well as experience the San Diego waterfront and view the skyline from the water. They offer a two-hour narrated cruise in San Diego Bay. The meal includes free-flowing champagne, a buffet-style meal, and incredible desserts (Hint: the Macaroons go fast). The cost is $64 and with that, you receive a Hornblower Champagne flute to take home as well as free WiFi. In addition to this sailing, Hornblower offers sunset dinner cruises and cocktail sightseeing cruises.
Take a Walk Along the Waterfront
Following your cruise, walk off those desserts with a stroll along the Waterfront. If you are in the mood for some maritime history, you will find the Maritime Museum, including the Star of India, the world's oldest active sailing ship, and the USS Midway Museum.
The retired USS Midway sits docked at San Diego's Navy Pier. Once a formidable battleship, today she's the home of the USS Midway Museum. The Midway is San Diego's' top attraction and the most visited naval ship in the world! Three American ships have borne the name Midway. The ship was the longest-serving American aircraft carrier of the 20th century and the largest ship in the world until 1955. She has seen 225,000 sailors come and go in her tenure. ⠀⠀
If shopping is more to your liking or you want to sit with a cocktail and enjoy the sunshine and bay breezes, head to Seaport Village. With its Spanish-inspired architecture and location on the water, this is an idyllic setting to have a drink and watch the sailboats.
Stroll Little Italy and the Mercato
When you're ready to move on, your next stop might be a stroll through Little Italy. You shouldn't have much trouble finding your way. You can often smell the garlic wafting from the Italian restaurants blocks away. Follow your nose.
This bustling area blocks from today's harbor was once the city's waterfront. Now it is an urban neighborhood full of trendy cafes, restaurants, brewpubs, and bars speckled with a few boutique shops.
India Street and Kettner Blvd. are this district's hub, but Little Italy encompasses the area down to the waterfront and a couple of blocks east. In addition to an array of places to eat and drink, Little Italy provides a range of opportunities for photos, including Piazza Basilone, the Little Italy sign, and the Big Red chair in front of Mimmo's Italian Restaurant.
If you are in town on Wednesday (9:30 am to 1:30 pm) or Saturday (8:00 a.m. to 2:00 p.m.) morning, you'll certainly want to take a stroll through the Little Italy Mercato. This year-round farmers' market takes up 6 city blocks on Saturdays. Both the Saturday market and smaller Wednesday market offer items such as farm fresh eggs, produce, poultry, and meat as well as olive oil, bread, and sauces from local food makers. But the flower stands might be the best part of the market. Oh, and if you happen to be traveling with your best friend (by best friend I mean dog) they are also welcome.
Grab a Bite to Eat in Little Italy
If you are ready for a bite to eat you may want to try Isola Pizza Bar, located at 1526 India Street. This trendy little joint is a gourmet pizza parlor and wine bar. Their menu offerings include antipasto, salads, pasta, pizzas, and more.
End your time in Little Italy with a visit to the Little Italy Food Hall. Grab a gelato from Bobboi Natural Gelato and take it outside where you can enjoy some people watching.
Grab a Coffee at James Coffee Company
James Coffee Company located on India Street in San Diego is a must for coffee lovers. Grab a seat and enjoy your drink there because this eclectic coffeehouse serves the most picture-perfect and delicious cup of coffee anywhere. And it's also, pet-friendly.
Stop in for a drink at San Diego's Oldest Tavern
If you happen to be visiting on Game Day when the San Diego Chargers are playing, you can expect the televisions above the bar to be blaring the game and patrons overflowing out onto the sidewalk.
Established in 1933, The Waterfront, located at 2044 Kettner Blvdthe bar is no longer a dockside watering hole, but it once was. This lively joint is a favorite of locals but you certainly don't need to be a San Diegan to feel welcome here. As a visitor, you are sure to be quickly identified as such but don't worry, one of the locals will invite you to sidle up to the bar.
It is no wonder the Waterfront is a favorite spot for residents to watch the game. When the home team scores a touchdown, fans cheer, bells clang from above the bar and the barkeep begins passing out small plastic cups filled with free Jello shots. Whether you are rooting for the Chargers or not, you are sure to have a good time.
Visit Balboa Park
If time allows and you are up for more walking head to Balboa Park. I'm not sure it is accurate to call this a "park" as it really is so much more. It combines open spaces with the San Diego Zoo, 18 museums, including the San Diego Air & Space Museum, Natural History Museum, and the Museum of Art, a performing arts center, a movie theatre, botanical gardens, dining, and much more. You might call it an oasis in the city.
You could easily spend an entire day, perhaps more in Balboa Park alone. Strolling its 17 gardens alone could fill a full day. But with limited time the Japanese Friendship Garden, Zoro Garden, Casa del Rey Moro Garden, and Alcazar Garden as well as the Botanical Building and Lily Pond are certainly highlights.
Or perhaps, you would rather spend your time at the zoo or exploring a museum or two. Regardless of how you decide to use your time here, Balboa Park offers something for everyone.
Explore Coronado and the Hotel del Coronado
If you try to do all the other things suggested here, it is unlikely that you will make it to Coronado. Nevertheless, I'm going to add it here since this may not be your first time in San Diego and perhaps you've already done some of the other items on the list and you have a bit of extra time.
Across the harbor from San Diego is Coronado Island, the home of the Hotel Del Coronado. The island has gorgeous white sandy beaches, shopping, dining options, and stunning homes.
If you prefer a bit of rest and relaxation to sightseeing, then book a spa day or service at the hotel's full-service salon and spa
If you are in the San Diego area during the holidays, the Historic Hotel del Coronado transforms into a magical Roaring 20's hotel decked out in lights, festive decor, and more. A few of the highlights of the holidays at the Hotel del Coronado are surely Skating by the Sea® and Frostbite Lounge, where you can enjoy the full food menu and beverage service beside a roaring fire pit. Relax and roast s'mores with your toes in the sand in a Beachside Igloo.
Where to Stay in San Diego
Opened in 2016, the Homewood Suites by Hilton (2137 Pacific Hwy, San Diego) shares its restaurant and common areas with the Hilton Gardens. Two inviting courtyard areas complete with mature tropical plants, overstuffed furnishings, and a fire-lit bar encourage guests to congregate in the shared outdoor space. Additionally, there is a rooftop pool with lounge chairs and a cabana that overlooks the bay.
Though you may not want to spend much time in your room, it is always nice to have a clean and cozy place to put your head down. The rooms decorated in neutral tones are spacious and comfortable. Additionally, the hotel offers a limited number of suites with full kitchens.
If you prefer not to cook your morning meal, they offer a complimentary breakfast daily. After a good night's sleep and the hotel's breakfast, it was time to make our way to the California / Mexico border at Tijuana. However, there are so many things to do here that you could easily extend your stay to 3-days in San Diego before heading on to Baja.
Interesting Things to Do in Tijuana
If your ideas about Tijuana come from television or movies, you may be under the impression that it is a dangerous and seedy city where anything goes. Let's face it the picture painted by Hollywood isn't flattering. So, it might surprise you to learn that Tijuana offers arts and culture, and amazing food options as places for kids and families.
Visit the Tijuana Cultural Center
If you want to blast that negative image you have of the city clear out of the water, start your visit at the Tijuana Cultural Center (CECUT). This modern complex brings together, fine and performance art, cultural exhibits, education, botanical gardens, and even an IMAX Theatre.
With several galleries under one roof and a theatre, there are typically multiple events occurring at any given time. You will find both rotating exhibits on loan from other fine collections as well as the museum's own collection in the main gallery.
If you find you need to stretch your legs during a ballet or need some fresh air, step out to the botanical gardens. Here you will find florae and faunas common to the area and replicas of ancient Mayan artifacts. Be sure to look for the pond with the turtles.
Get Familiar with Mexico's Pop Culture at MULLME
This is a different kind of museum. Focused on pop culture through the generations, MULLME offers something for every member of the family.
Each floor of this three-story museum is dedicated to a different theme. The first floor is dedicated to collectibles. Here you will find all the promotional items and memorabilia from your youth, such as Pokémon cards, Pogs, Happy Meal toys, Bobbleheads, action figures, trains, and more.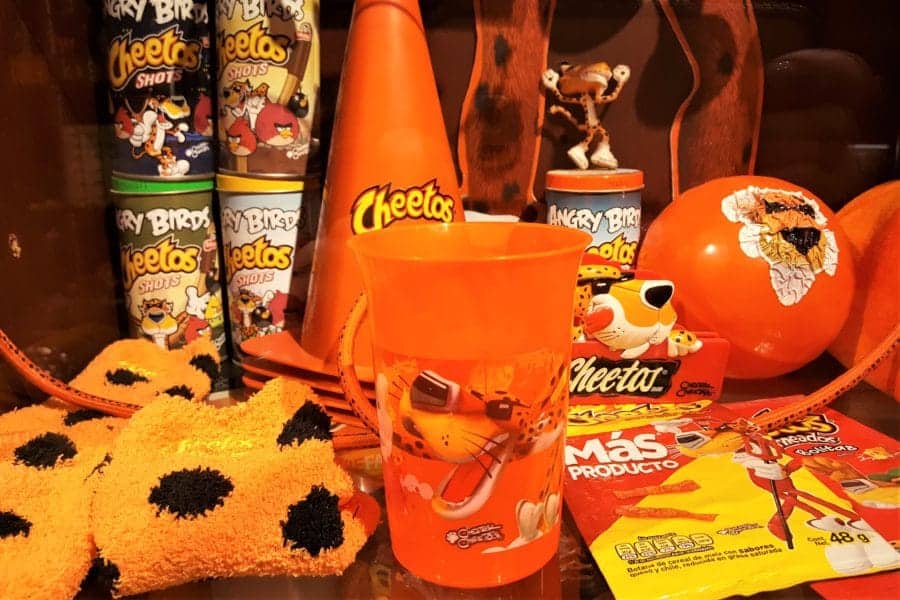 The second floor is dedicated to the history of Lucha Libre, which is more than a sport, it has become an integral part of the culture. The museum exhibits a massive collection of Lucha Libre masks and costumes, many of which have been worn in actual bouts. Some still carry the evidence of a brutal battle in the form of tears and even blood stains.
Finally, on the upper level, you will find rotating installations. When I visited, the installation was dedicated to Mexico's 500-year history of Bullfighting. This was done through a collection of colorful paintings by the artist Jose Chavez whose works capture the spectacle. As an aside, bullfighting has been banned in many parts of Mexico.
Eat Crickets at Mercado Hildago
A trip anywhere is incomplete without a visit to the local market. Mercado Hildago is a nice size market with a blend of the authentic and the phony for the unsuspecting tourist. Here you will find meats and cheeses, produce, spices, piñata, and local delicacies including crickets. If you're feeling brave, try the crickets.
Check Out Tijuana's Exciting Culinary Scene
Eat Authentic Caesar Salad Where it Originated
If you are a Caesar Salad aficionado or want to be able to tell your friends that you had a Caesar salad where it originated, then Caesar's (located at Revolución Avenue between 4th and 5th Street) is the place to go. With claims that they invented the Caesar salad, you will not find a more authentic dish.
Your salad is prepared at your table with whole, not shredded romaine leaves, fresh egg, chopped anchovies, freshly squeezed lime, and crushed garlic by one of their friendly servers. The menu here extends far beyond salad but the Caesar salad makes them famous.
If you are looking for something more substantial than a salad, or you are with a group that just can't agree on what to eat, Telefonica Gastro Park located at Boulevard Aguacaliente #8924 is the solution. Here you will find a collection of food trucks that offer up gourmet food that runs the gamut from fish tacos and ramen to steaks and octopus. This is a great choice for families. The adults get the quality food they crave in a relaxed kid-friendly outdoor setting. And, with so many choices there is sure to be something to please everyone on a budget.
Sample Mexican Beer
Baja is home to several breweries. Probably most notable is Tecate. Tijuana is home to several craft breweries. We visited Norte Brewing Co. While not the easiest place to find, located on the 5th floor of the Foreign Club parking garage on 4th Ave between Revolution and Constitution, the brew and the views are worth it. A former strip club, Norte has stayed true to its roots with beer names such as Escort Blonde Ale, Sugar Daddy Chocolate Oatmeal Stout, and Cougar Amber Ale. They even kept the pole in the center of the room. We were there in the afternoon so the place was rather sedate but perhaps that is not the case when in full swing (pun intended).
Looking for more about Tijuana? Here are 10 Things You Need to Know About Tijuana before you go.
Awesome Things to Do in Rosarito
This town has all the markings of a great little Spring Break town, likely because it was exactly that in the early aughts. But after some tough times, Rosarito is once again flourishing. Both new and longstanding businesses are doing well. There are a number of art studios and galleries.
Check out Rosarito's Art Scene
It wasn't until my third trip to Rosarito that I learned about "Artist's Alley." On past trips, I was certainly aware of the stores selling massive wood furniture and brightly colored Mexican pots along the Free Road. What I learned on my most recent trip is that mixed among these shops are galleries and artisans' workshops. I had the pleasure of visiting a number of them on this trip.
You will find most of these places located near Kilometer 30 on the Free Road. Park anywhere, get out, and stroll the street. I recommend you look for the woodshop of Juan Bosco Lopez, Casa la Carreta (km 29.5). This third-generation woodshop crafts fully custom furniture made to your specifications.
Also, make it a point to visit the shop of metalcrafter Edgar Orozco. La Iguana Iron Garden (km 29.5). Orozco, handcrafts custom wrought iron furniture, electric fixtures, gates, and even sculpture. If you can dream it, he can build it.
If you prefer more traditional fine art then stop by Polo's Gallery (km 33). Here you will find the works of more than 20 local artists in a variety of mediums including oils, clay, and jewelry.
Drop in next door at the Montecristo Gallery. This is not only the artist's gallery but also his studio. Therefore, on most days you can find him there. He is more than happy to tell you all about his work, its evolution, and the thought behind it.
Though away from Artist Alley, there is one more gallery you might want to check out. Just across the way from the Rosarito Beach Hotel, you can peruse original art in one of several galleries. But the one that caught my eye was AMAYA Coffee Gallery where the artist creates beautiful paintings using coffee rather than oils, acrylics, or watercolors. The pictures take on the rich look of sepia.
Unfortunately, I've been limited to window shopping since the gallery is closed on Tuesdays and apparently it is always Tuesday when I've been there.
Enjoy a Spa Day at the Casa Playa Spa at the Rosarito Beach Hotel
Maybe you are simply looking to relax during your visit to Rosarito, and no one would blame you, then a visit to the Casa Playa Spa may be in order. Part of the Rosarita Beach Hotel, the spa is located in a separate building next door. This two-story facility, with Spanish-inspired embellishments, is a full-service spa, including therapy rooms, Jacuzzi, a sauna, and a relaxation room. This is a true day spa and includes services for men, women, couples, and kids ages 6 – 16.
If you are looking for other fun and adventurous things to do in Rosarito, take a look at my article, What to do in Rosarito
Enjoy Top-notch Restaurants in Rosarito
For your evening meal, you may want to try Susanna's, a warm inviting cantina with an open kitchen situated prominently in the front of the restaurant. Susanne Stehr, the owner is a gracious host and always happy to talk about her coveted wine cellar. Susanne prides herself on offering her customers great wines from the Baja region and is well-versed in the many varietals available in the area.
Try not to fill up on your dinner because you will want to have room for dessert. The Chocolate Fudge Cake brushed with Kahlua and topped with ice cream and the Homemade Bread Pudding are to die for. After dinner, you will likely welcome the walk back to the hotel in the cool ocean air.
Where to Stay in Rosarito
Rosarito Beach Hotel
Rosarito Beach Hotel (RBH) is the oldest hotel in the town. The resort dates back to the early 1900s and began as a hunting lodge. The original 12 rooms still exist today but with the addition of three other buildings including the 17-story Pacifico Tower, the resort has over 500 rooms to fill.
The Grand Suites in the Pacifico Tower are spacious with a combination kitchenette and living area that has a balcony overlooking the Pacific Ocean. There is a separate bedroom with its own television and king-size bed plus a bathroom with both a soaking tub and a large shower.
If you would prefer a ready-made meal over cooking in your rooms then head to the Azteca Restaurant and Bar located in the main building. Here you can enjoy a traditional Mexican breakfast of Huevos Rancheros and black beans along with coffee and fresh-squeezed orange juice.
A southern California and Northern Baja road trip need not be difficult. It is perfect for a long weekend or a short vacation. Plan your trip to straddle the weekend and getting to and from Mexico should be no problem. You should find it to be a relatively comfortable drive and if you add that extra overnight stay in Tijuana you can experience a little of what Tijuana nightlife is all about.
Like this Post?? Share it Now!