I have to admit Memphis wasn't high on my list of places to visit but no matter how lukewarm I might be about a destination, I'm not going to turn down a trip. Before visiting my impression of the Bluff City was that it was a Nashville knock-off.
However, now having been to the Birthplace of Rock and Roll, I would consider it more like the Big Easy. I mean that in the best way possible as I love New Orleans. I can honestly say, that Memphis is a place where I would definitely return.
Because of my mistaken notions about the city, I thought 3 days in Memphis would be more than enough. And technically the amount of time you should spend here depends on where you want to focus your attention. If you want to hit the major music and Rivil Rights highlight, the Bass Pro Shop Pyramid, and the Memphis Zoo then a 3-day itinerary may not be enough.
However, in my opinion, Memphis is all about music, food, and Civil Rights. That said, this is where I chose to spend my time. If you hold a similar belief then this itinerary for an extended weekend in Memphis may be perfect for you. I've organized it in a way that allows you to spend a day on music, one on Civil Rights, and the third day on other fun and quirky activities while working the food into the itinerary.
Memphis Long Weekend, Day 1- A Homage to Elvis and Rock and Roll
Between Graceland, the Elvis Museum, and Sun Records this itinerary will fill the better part of your day.
I recommend getting to Graceland as early in the day as you can. As the day goes on it just gets more and more packed.
Visit Elvis' Graceland
Graceland was the home of Elvis Presley. By today's standards, it is a fairly humble estate. The main living spaces and the grounds are open to the public. Visitors receive an iPad for the guided multimedia tour narrated by John Stamos. (I understand he is a huge Elvis fan.)
You will see where Presley spent family time, entertained, and even the Jungle room where he died. The lower level of the house is dedicated to family treasures including intimate pictures of him and his daughter Lisa Marie.
This was my first visit to Graceland, but my mother had visited a number of times. From her visits, I know the lower level once displayed some of the items exhibited at the Elvis Museum related to his career. I like that they have moved those items across the street and dedicated the home to him and his family. After all, that is what a home is.
Elvis and his parents are buried at the Graceland estate. These along with the stables, the racquetball court, and the swimming pool are all part of the tour.
Tour the Elvis Museum
Across the street is the Elvis Museum. This is actually where your Elvis experience begins. You will purchase your tickets here and before going by minibus to Graceland you will watch a short video.
The museum houses all things, Elvis! There is an exhibit dedicated to his personal automobiles and those used in his movies as well as automobiles he promoted. If you are so inclined, you can view the costume he wore when performing as well as, his gold and platinum records. This is just the tip of the iceberg as they say. Also, on-site you will find Elvis's personal plane, the Lisa Marie, which is open for tours.
Of course, like any museum, you will find gift shops. Yes. Plural! There are multiple places to pick up a souvenir. Additionally, the museum offers three options for dining. However, don't eat here. It's outrageously expensive.
Try the Arcade Diner for Elvis' Favorite Sandwich
If you want the authentic Elvis experience, you need to go to the Arcade Restaurant, Memphis' oldest cafe. Elvis was a regular at the cafe in his early days and they still serve his favorite sandwich, Grilled Peanut Butter and Banana. They also offer the option of adding bacon.
I'm a huge fan of peanut butter and banana sandwiches but I never thought to grill it like a grilled cheese. Nor did I ever consider adding bacon. However, I went with the bacon-added version and it was delicious. The sandwich is served with fries.
In every other way, the diner is not dissimilar to any other in décor and food selection. However, they are only open until 3 p.m.
Stand with Legends at Sun Studio
After lunch, Uber, walk, take the trolley, or grab a bike share back to Beale Street. From here head to the Rock and Soul Museum, where you will pick up a free shuttle to Sun Studio.
Credited as the Birthplace of Rock and Roll, visiting Sun Studio is a must. The studio earned the label because it is where Elvis recorded his first album. But this legendary recording studio goes far beyond giving rise to Elvis Pressley and rock music. Its history is deeply connected to blues and country music and many of the greats across genres. as we know it. Here you will learn quite a bit about the studio's connection to blues, country, and more.
Sun Studio and owner, Sam Perkins gave rise to superstars like B.B. King, Ike Turner, Johnny Cash, Carl Perkins, Jerry Lee Lewis, and Roy Orbison. And sometimes, collaborations between these magnificent talents would bring them into the studio at once. Can you imagine?
During the tour, you will have time to ham it up a bit (and stand in the shadow of greatness) in the studio where these and many other music greats recorded some legendary tracks.
You want to allow a couple of hours at least for Sun Studios. While it is not huge and the tour is not lengthy, there may be delays. No worries though, grab an ice cream or a coffee while you wait.
Rock 'n' Soul Museum (Optional)
If time allows, you may want to try to squeeze in the Rock 'n' Soul Museum, but if you are running short on time on day one, there are a few other places within the itinerary where you can plug it in if it's a priority for you.
he Rock 'n' Soul Museum, which delves into gospel, the blues, Elvis, the rise of soul, and the crunk genres. Appropriately, the museum stands along the historic Highway 61, famously known as the Blues Highway, just off of Beale Street.
Through a collaborative effort with the Smithsonian and the National Museum of American History, the museum provides an overarching narrative of Memphis' pivotal role in the tapestry of American musical history. Historians immersed in the exhibit creation process found themselves drawn back repeatedly to the Delta and Memphis, Tennessee. Through their dedicated research, these scholars unveiled what they ultimately deemed as the "roots of America's music." These insights form the bedrock of the museum's exhibitions, offering a compelling glimpse into the origins and evolution of these musical genres.
Chill Out at Loflin Yard
After a long day, I suggest a chill evening at Loflin Yard. This is a restaurant and bar, formerly the home of the carriage fleet offers both indoor and outdoor space. Outside, there are seating areas with brightly colored Adirondack chairs covered by sun sails. If you're up to it, try your hand at Cornhole.
Loflin Yards has a varied menu including grilled veggies, brisket tacos, smoked wings, a pimento spread (which seems to be a thing here), and a lovely charred romaine salad. I was lucky enough to have a sampling of all and would recommend any of them but you won't want to miss the tacos.

You can expect live entertainment in the evenings. While I was there in the afternoon, I imagined this place gets grooving at night.
Weekend in Memphis, Day 2 – Civil Rights and More
Spend the morning at the National Civil Rights Museum
Housed in the former Lorraine Motel where Martin Luther King, Jr. was shot, the building's exterior looks exactly as it did on that day. The interior is dedicated to the history of Civil Rights in the United States, beginning with slavery through Jim Crow and up to the present day. It includes the stories of Rosa Parks, Ruby Bridges, the murder of Emmett Till, Black Lives Matter, and more.
This interactive, multimedia exhibit is both educational and impactful. While we all have some knowledge of slavery, its legacy, and racism in this country, to see it laid out chronologically is striking. And if I'm being completely honest, this exhibit may be the most affecting I've seen.
But the National Civil Rights Museum goes beyond interactive displays and transports you into the very rooms occupied by King, close friend Ralph Abernathy, and his aide and confidante, Dorothy Cotton during that final visit to Memphis. King and Abernathy were booked in Room 306 and Cotton in the adjacent 307. The rooms remain exactly as they were on that pivotal day in 1968.
Tragically, it was on the balcony of Room 306 that King was assassinated on April 6, 1968, at 6:01 p.m. This heart-wrenching event occurred less than 24 hours after King delivered his iconic "I've Been to the Mountaintop" speech to the striking sanitation workers at the Church of God in Christ Mason Temple. The fatal shot came from a building across the street, fired by James Earl Ray.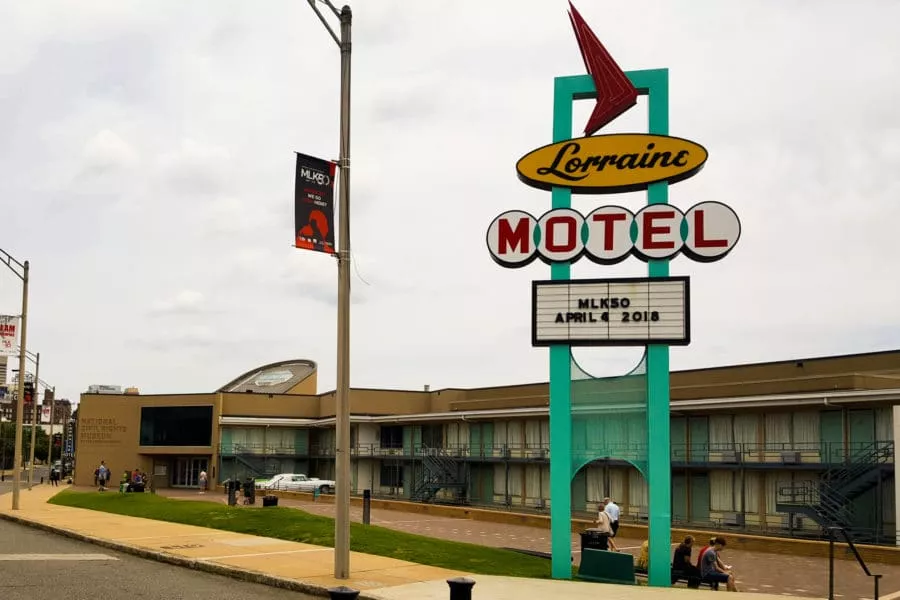 Viewing this place of monumental importance is a heart-wrenching experience. This entire museum is so well-done that when I finished my visit I sat under a tree and wept. If you could only do one thing in Memphis, this should be it.
However, to do this museum justice, you really need to spend about 3 hours here. The first day I visited I only had about an hour and fifteen minutes. It was not nearly enough. I felt like I blew through. I went back for a second visit when I could dedicate more time and spent 3 hours there. So, I think it is fair to say that this is the minimum amount of time to allocate.
Don't Miss Central BBQ
Like many cities, that have that one dish they are known for, there is always dispute among the locals over who does it the best. In the Bluff City, it's BBQ. When discussing this local favorite, typically three names top the list: Rendezvous, Blues City Café, and Central BBQ.
Just around the corner from the Civil Rights Museum is Central BBQ. This is a must and because you've just visited the museum it is the logical choice for lunch. But expect a line. This place is jammin'. They serve the food family-style and there seems to be an endless supply of it so bring your appetite.
From what I am told, the way to eat the pulled chicken and pork is on a roll and topped with coleslaw and some of their hot or mild sauce. It was delicious. However, we wanted some sauce that was a touch hotter than what was on the table. The server told us when she returned with the hotter saucer, "It'll make you wanna get up and slap yo mama." I'm not sure I wanted to slap anyone, but I was glad we asked to try it. Don't let the server's description scare you. If you enjoy a bit of heat, you probably won't find it to be overwhelmingly hot.
For sides, they offer, mac and cheese, baked beans, coleslaw which is darn good (and from what I'm told, I apparently make some of the best) as well as greens which the Southerners in the group said were made "right." As a Northerner, I'm not exactly sure what that means.
They also have starters, including Nachos, topped with pulled pork. And for dessert, we tried the Apple and the Peach Cobblers.
Central BBQ is a favorite among locals and visitors to the Bluff City. But Memphis has no shortage of great BBQ joints and has been called one of the Best BBQ Cities in America.
Get Moody at the Blue Hall of Fame Museum (Optional)
Almost across the street from the Civil Rights Museum is the Blue's Hall of Fame. Depending on how much time you've spent at that museum, you may have time to stroll over the Blues Hall of Fame.
The Blues Hall of Fame is a tribute to musical luminaries who have earned their place in this prestigious establishment. The museum intertwines the narratives of some of the most legendary blues artists to have lived, including legendary figures like Muddy Waters, Pee Wee Crayton, and Stevie Ray Vaughan.
An intimate and thoughtfully crafted space, this exhibit invites you to embark on a journey through the world of blues, with a rotating art gallery on the main level and a compact yet meticulously curated array of blues-themed displays downstairs.
The walls of the Blues Hall of Fame showcase an array of tour jackets, album covers, and musical instruments that pay tribute to the essence of blues music. Among them is an extravagant jacket worn by Muddy Waters in 1982. One especially notable highlight of the gallery is the joint tribute to blues siblings: Donald "Duck" Dunn and Matt "Guitar" Murphy.
Additionally, you will find dazzling performance gowns donned by icons like Mavis Staples, Koko Taylor, and Denise LaSalle. A particularly moving piece in the collection is BB King's final Lucille, a guitar that was carried in his funeral procession in 2015.
Eat, Drink, and Play at the Railgarten
Later, this itinerary takes you beyond the downtown area to the trendy Cooper-Young neighborhood.
If you do nothing else while you are in the neighborhood, you should plan to spend some time at the Railgarten.
This is a family-friendly (dog-friendly, too) complex with a big old block party vibe. Outdoors you'll find games such as cornhole, volleyball, horseshoes, and more. There's a playground for the kids. They have plenty of lawn chairs. Just grab one and set it up anywhere.
There are multiple bars both inside and out and dining options abound. Choose from indoor diner-style seating or have a seat in the sports bar. If you want to be outdoors, head to the yard or grab an ice cream cone.
It's not like me to recommend meatless anything but let me say this about the vegetarian burgers at the Railgarten, "Wow." I'm no longer a vegetarian but I was for three years and therefore I've had my share of veggie patties. This one was like none I had before. The flavor was great but so was the texture. I almost didn't know it wasn't beef.
Stroll Beale Street
After dinner, you are probably going to want to walk some of it off. Head to Beale Street. The music starts playing and the booze begins flowing around 3 pm.
Beale Street has that Bourbon Street vibe. Like Bourbon, Beale Street is lined with bars, restaurants, and some one-off shops. You can expect street performers and music pouring out onto the street from the various venues. Along, the way you will find everything from the iconic BB King's Blues Club to the Hard Rock Café and everything in between.
But because Beale Street is wider than the main thoroughfare in New Orleans, even when it's hopping it doesn't feel overly crowded. However, I was there on a Wednesday night when Justin Timberlake played at the stadium, and it was also Bike Night. That night, when the show was out, things were extremely busy. But it probably wasn't much different from what you would see on a typical Friday or Saturday night.
Take a Ghost Tour
After dark, take a walking tour of the city and hear about the legends of hauntings in Memphis. Whether you're a believer in the paranormal or not, I think this is always a fun thing to do. If nothing else, you will learn things about the city that you otherwise probably would not on any other walking tour.
Your tour begins at the BB King Blue's Club and takes you to some of the oldest and most legendary buildings in town. Learn about the city being hit with yellow fever, the little girl who haunts the Orpheum Theatre, and more. Some even claim to have seen ghosts on the tour.
An Extended Weekend in Memphis, Day 3 – Make Time for Everything Else
Start day 3 of your itinerary with the Peabody Ducks. It's a must-do
The Peabody Duck March
Steeped in tradition, The Peabody is known for its twice-daily Duck March. What is that, you ask? It's exactly as it sounds. Promptly, at 11 a.m. each morning, they escort the ducks from their rooftop penthouse down to the fountain in the lobby. They roll out the red carpet and the ducks are ushered in with fanfare and the history of the tradition. It is quite a spectacle. The ducks spend their day swimming about in the hotel fountain.
At promptly, 5 pm each evening the ducks are escorted back to their rooftop digs but not before a bunch of fanfare similar to the morning's presentation. It's a rough life, I know.
Whether you stay at The Peabody or not, I think it is worth trying to catch the spectacle, especially if you are traveling with kids. Come early though because it gets mobbed. If there is no space on the lobby level, then head to the mezzanine which overlooks the lobby.
The best way to experience the Duck March is to go early, grab a seat near the fountain, and order either Coffee Service or High Tea. This will give you a good view of the show and you can relax and enjoy the entertainment.
Rolling on the River (Option 1)
It is unlikely that you will have time to do all of the next three items. Choose one or maybe two for today. Of course, what you have time to do will depend on when you plan to depart Memphis.
Get ready to conjure your inner Tom Sawyer as you enjoy a lazy paddleboat ride down the Mississippi River with Memphis Riverboats. There's not much more southern than that.
You will begin your journey at Beale Street Landing. As you make your way along the muddy waters of the mighty Miss, an entertaining narrator provides some Memphis history and talks about the relationship the city has with the river. The trip lasts about an hour and fifteen minutes. They offer a full snack bar including beer and wine. Be sure to wear your sunscreen.
If you have a little bit of extra time, after disembarking, you might want to walk over to the Mississippi Riverwalk on Mud Island or head to Big River Crossing where you can walk across the Memphis-Arkansas Memorial Bridge into Arkansas. One more state, ✔️
Visit Old Dominick's Distillery (Option 2)
Whether you are a whiskey aficionado or not (I'm not), a tour of the Old Dominick Distillery provides a look at the craft of making Tennessee whiskey. According to what they said during their presentation, there is something special about the water in Tennessee that makes the whiskey special.

Old Dominick produces three kinds of Whiskey and two vodka blends. And of course, samples are available. But if you're not a straight whiskey drinker then try their proprietary Old Dominick Toddy.
Additionally, Old Dominick's has a wonderful rooftop event space. I attended a private party with a live band. As day turned to dusk, the music played on and the sun began to sink over the Mississippi River. You couldn't ask for a nicer way to spend a summer evening.
Get Groovy at Stax Museum of American Soul (Option 3)
If you had your heart set on visiting the Stax Museum of American Soul, this is a perfect time to add that to your itinerary. But you will likely need to forgo either Old Dominick's or the riverboat since Stax is located a bit away from downtown. If you are traveling by car this could be a place you stop on your way out of town
Situated within the vibrant neighborhood of Soulsville in Memphis, the Stax Museum of American Soul Music stands as a tribute to luminaries of soul music history, such as Otis Redding, Isaac Hayes, Carla Thomas, and Booker T. & the M.G.'s. The museum resides on the very grounds where the iconic Stax Records studio once thrived.
Having succumbed to bankruptcy and leaving the building vacant, the original structure was later demolished. But in the interim years, the property had been purchased by the Church of God in Christ for a mere $10. In the late 1990s, the community rallied to rejuvenate the area. Stax Museum of American Soul Music was part of that community revitalization project.
Today, this institution stands as a testament to the legacy of Stax Records and the exuberance of soul music. But in addition to celebrating souls place in music history, the museum also pays homage to the societal and racial dynamics that unfolded during the ascendancy of soul music's popularity
Your visit begins within a genuine early 1900s Mississippi Delta church – the very birthplace of soul music. While here, step into a replica of Studio A, relish timeless tracks at the museum's listening station, and groove to the beats on the Express Yourself dance floor. And you won't want to miss Isaac Hayes' custom Cadillac Eldorado, complete with 24-carat gold trim and lavish white fur carpeting.
Where to Stay in Memphis
Guesthouse at Graceland
If you are really into the Elvis theme itinerary, stay at the Guesthouse at Graceland, a 450-room hotel near the estate and the museum. I have not visited the Guesthouse. I have heard and seen quite mixed reviews about it. One complaint I heard was related to noise from other rooms. I have been told it is pricey and not worth the money. My research indicates that rooms start at around $200 / night. You will need to be the judge if it is worth it for the experience. I think another consideration is how important it is for you to be near downtown.
The Peabody
A stay at The Peabody, an elegant historic hotel that will celebrate its 155th year welcoming guests in 2024, is like few others. Known as the "South's Grand Hotel," opened in 1869 and is listed on the National Register of Historic Places. Few hotels exude the sophistication of this fine inn.

Rooms at The Peabody are well-appointed and many have views of the city. High ceilings and bathrooms with tubs provide all the charm of an old hotel. At the same time, The Peabody has all the amenities of a modern hotel, including air conditioning, Wi-Fi, an in-room safe, and a blow dryer. Additionally, they offer all the services of a fine hotel including room service, valet, bellhops, and even shoe shine. If you are looking for something physical they have a gym, swimming pool, and a spa on the premises.
Thursday nights throughout the summer, The Peabody hosts a rooftop party with live bands performing. They offer both regular and VIP admission. The rooftop offers views of the city and the Mississippi River. It's an excellent spot to view the sunset.
And if you are staying at The Peabody and are concerned about the noise from the rooftop, the bands stop performing at 10 p.m. It quiets down immediately.
Getting around Memphis
I found Memphis to be a very walkable city. But I should add a disclaimer: I may walk more than most.
To go to Graceland and out to the Cooper-Young neighborhood you will likely want to either Uber, Lyft, or grab a cab. This is not walkable but I would say all the rest can be walked.
If you are not up to all the walking you can grab the trolley. The cost of air-conditioned public transportation is $2 for an all-day pass and can be paid on board. Exact change required. Also, three-day passes are available.
Also, Memphis has just introduced a Bike Share program. Download the app at https://www.bicycle.com/app. With nearly 60 locations, you will never be far from a kiosk.
Get your FREE Printable Memphis Long Weekend Itinerary, now.
Like this Post?? Share it Now!