Unless you are a Penn State Football fan or an outdoors adventurist, central Pennsylvania, and more specifically Happy Valley may not be the first place to come to mind for a long weekend or weeklong getaway. However, visitors may be surprised to find out that there are so many things to do that they can't fit them all in with one visit. That has certainly proved the case for me.
I first visited for three days in February to do wintertime activities and have returned at least three times in the past two years. I've visited in every season except spring and have always found there to be wonderful things to do from Penn State sports to outdoor activities to museums and festivals. And there are still a ton of things I haven't yet experienced and that's why I'm planning to return again this year.
I guess you could say my first surprise about Happy Valley was how much I would like it and would want to keep coming back over and over again.
**Disclaimer: This was a hosted stay, however, all opinions are my own. I strive to provide my readers with my most authentic sentiments.
Where is Happy Valley, Pennsylvania?
Happy Valley is probably best known for being the home of Penn State University and the Nittany Lions. But it is also smacked in the middle of the state of Pennsylvania. Visitors from, New York City, Philadelphia, Baltimore, and Washington DC can make the drive in under 4 hours. While the name might imply that Happy Valley is one valley it is actually a collection of five; Nittany Valley, Penns Valley, Moshannon Valley, Brush Valley, and Bald Eagle Valley. These five valleys include the towns of State College, Bellefonte, Boalsburg, Centre Hall, and Phillipsburg.
This is a rural area and with the exception of downtown State College, things are spread out. Be sure that you build enough time into your itinerary to get from place to place.
Why it's called Happy Valley?
"Happy Valley" is a term synonymous with Centre County, Pennsylvania. It has been called this since the early 1930s having earned the moniker because the region was relatively unharmed by the Depression due to the presence of Penn State University.
More Interesting Facts About Happy Valley, PA, and Related Things to Do
Fact #1-Penn State University's Campus is Huge
Penn State's Main Campus located in State College encompasses close to 8000 acres and has 312 buildings on the site. Features include sports complexes, educational and research facilities, residence halls, an arboretum, agricultural buildings, administrative buildings, museums, and even a creamery.
Related Things to Do on Penn State University's Campus
Take a bit of time to explore Penn State's campus. A few highlights you won't want to miss include getting your Instagrammable shot at the Nittany Shrine. On a spring day visit the Arboretum at Penn State and then stroll on over to the Berkey Creamery for one of 120 flavors of ice cream or sherbets. Art enthusiasts should plan a visit to the Palmer Museum.
While the campus is walkable, some highlights are spread across a large area and driving may be more appropriate for some visitors.
If you are exploring Pennsylvania colleges, under an hour from Penn State, in Huntingdon PA is Juniata College.
Fact #2 – Penn State's Football Stadium is Massive
Penn State's Beaver Stadium, home of the Nittany Lions with a seating capacity of over 106K is not only the second-largest in the Western hemisphere but the 4th largest in the world. Returning alumni, current students, and townspeople alike come together on weekends throughout the season to root for their beloved Nittany Lions.
Things to Do Related to Penn State's Beaver Stadium
Of course, if you are visiting during football season you should try to attend a game. If you can't get tickets at least join in on some of the tailgating activities. Alternatively, you may want to attend a basketball game at the Bryce Jordan Center if basketball is more your thing.
If you are a bit of an adventurer and you are up for a hike, head to the Nittany Mountain Conservancy. Here you will find hiking trails. Take the trail for the Mike Lynch Overlook. The hike to the overlook up Mount Nittany is less than one mile but there is a 600-foot vertical climb. However, once you arrive you will be treated to panoramic views of State College and Penn State's Campus including views of Beaver Stadium.
Fact #3 – State College is More a Small City than a Rural Town
With 40K students enrolled at the university and a permanent residency of roughly the same number, State College provides travelers with everything that you would expect to find in a much larger city. It feels unexpectedly cosmopolitan given its location in a rural region of the state and has all the energy you would expect in a college town. You can expect to enjoy everything from college sports to dining, bars, and shopping.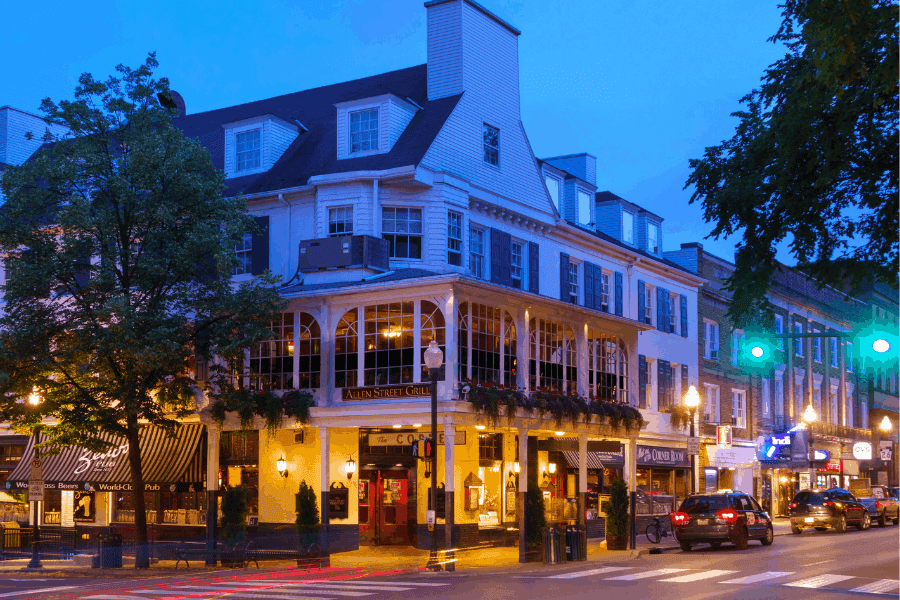 It's worth noting that State College specifically and Happy Valley more generally, is a diverse and welcoming area. Credit for such openness can probably be given to the presence of Penn State University. Drawing students from around the world, the existence of the Innovation Park and first-class research facilities creates a level of multiculturalism rarely seen in rural Pennsylvania.
Things to Do to Experience this Amazing Small City
Take some time to explore the shops, restaurants, and bars. Getting off the main track is encouraged. You can find some great public art and some of the more eclectic shops and galleries.
Tucked one block behind the shops on College Avenue, you will find WC Clarkes Cheese Shoppe and Coffee Roaster. And as if coffee and cheese isn't nirvana, they even sell a bit of chocolate.
Located on the lower level in Calder Square, this is the kind of place the locals stop in to get their coffee and mull over the issues of the day. Everyone seems to know one another.
Fact #4 – Happy Valley Tons of Museums
If you were to think that museums were not something to be found in rural central Pennsylvania, you would be incorrect. Sure, you might think of historic sites or maybe even some small history museums but full-blow, big-city museums, probably not.
However, Penn State alone has five cosmopolitan museums on its campus including the Palmer Museum of Art, the Matson Museum of Anthropology, the All-Sports Museum, the Earth and Mineral Sciences Museum and Art Gallery, the Frost Entomological Museum, and the Pasto Agricultural Museum.
Museums are not limited to those found on campus. Downtown Bellefonte has some of its own. Bellefonte is home to the Bellefonte Art Museum (BAM), a small thoughtfully curated space. This intimate gallery offers a nice collection of artworks including pieces on loan from around the world as well as compositions by regional artists.
Also, in Bellefonte is the Centre County Historical Museum, located within the Centre County Library. The museum holds a collection of artifacts celebrating the region's industrial heritage and everyday life in Bellefonte as well as throughout the county. Additionally, the library holds the historical county archives, 200 years of newspapers on microfilm, and ancestry information for over 700 families.
Things to Know When Visiting Happy Valley's Wonderful Art Museum
If the quality of the Palmer Museum is indicative of what visitors will find at the others, then you can expect to find quality exhibits. Most of the campus museums are free. Some do have suggested donation amounts typically around $5. The Palmer Museum does timed tours and requires a ticket.
Those venturing into Bellefonte should plan to visit the Bellefonte Art Museum (BAM) and the Centre County Library and Historical Museum. Both are free.
Fact #5 – Columbus Chapel in Boalsburg holds the "Most Important Columbus Collection in North America"
Take an afternoon and head to Historic Boalsburg where you will find two great museums located just across the street from each other: Columbus Chapel and the Boal Mansion Museum and the Pennsylvania Military Museum. Both museums are interesting and informative and there is even a bit of overlap between the two as both house a large collection of militaria.
But unlike the Military Museum which is dedicated to the subject matter, Boal Mansion holds a huge and varied collection of artifacts accumulated by the Boal Family over nine generations and dating back centuries. The massive collection includes original furnishings, papers, portraits, tools, and weapons all held within the 200+ year old family mansion.
But Columbus Chapel is the crown jewel. The small chapel was part of Columbus Castle in Asturias, Spain which was inherited by Mathilde de Lagarde Boal, the wife of Colonel Theodore Davis Boal. Lagarde Boal became heir to the property upon the death of her Aunt Victoria Montalvo Colon, a descendent of Christopher Columbus.
In 1908, the couple imported and reconstructed the chapel on the property, as well as shipped the chapel's contents. Columbus Chapel holds what is thought to be the most important Columbus collection in North America. It contains numerous 15th to 18th-century European oil paintings, statues, and original clergy vestments. The chapel's confessionals have been converted to hold nearly 500 years of family correspondence made up of tens of thousands of pages of perfectly preserved documents. But the most incredible artifact in the collection is what is believed to be two pieces of the True Cross of Jesus, given to the Columbus family in 1817 by Spain's Bishop of Leon.
Visiting Boal Mansion Museum and Columbus Chapel
The museum is closed on Mondays and Tuesdays but offers drop-in tours Wednesday through Sunday at 2 PM and does not require reservations. Admission is $15 per adult, $12/person with a group of 8 or more, $8 per child (7-17), and free to members and military veterans. Visitors are free to walk the 48-acre property, which includes the Boal Amphitheater, gardens, hiking trails, and a wildlife observation platform.
Fact #6 – Bellefonte is the Centre County Seat
Founded in 1800, Bellefonte and a number of surrounding towns, competed for the honor of being named the county seat of Centre County. However, the town's most notable competition was nearby Milesburg, a leader in navigation. According to a widely circulated legend, in an effort to counter that advantage, two prominent businessmen loaded a flatboat and pulled it to the town's Spring Creek arguing that Bellefonte had similar capabilities. It is rumored to have influenced the decision to make Bellefonte the county seat.
Visit the Centre County Courthouse
Situated on the "Diamond" in Bellefonte you will find the Centre County Courthouse. It is easily identifiable by its Grecian colonnades. However, the columns are not original to the building. While the first courthouse was built around 1805 the columns were not added until 1835.
In front of the Courthouse, you will find a statue of Andrew Curtin, set within the Soldiers and Sailors War Memorial, designed by Joseph S. Huston the architect of the Pennsylvania capital building in Harrisburg.
Fact #7 – Bellefonte was built on the Iron Industry
Today, we often hear central Pennsylvania associated with the coal industry. For this reason, it might be easy to assume that Bellefonte and the other small towns in the region were founded on that industry. However, in the 1800s, it was iron that drew moguls to the region.
Bellefonte specifically was ideal for this enterprise. Located on the "Big Spring," the town's main water supply; the vast supply of wood in the region to fuel the furnaces, and the plentiful limestone which acts as a fluxing material in iron and steel production all made Bellefonte an ideal place to settle.
Bellefonte is a very walkable little town. Visitors should take a bit of time to explore downtown and enjoy the vast collection of Victorian architecture that has been preserved here.
Visit a 19th Century Company Village
Just minutes from downtown Bellefonte is Eagle Ironworks at Curtin Village. The village depicts life in a 19th-century company town. The site features Pleasant Furnace, a waterwheel-powered cold blast charcoal furnace, the Roland Curtin Mansion, and the worker's village.
Fact #8 – Bellefonte is known as the "Home of Governors"
This politically influential town has been home to a total of seven US governors: Five Pennsylvania governors, one California, and one Kansas.
Find Monuments Honoring the Bellefonte's Many Governors
Visit Talleyrand Parks where you will find the monument honoring all seven governors. Note that all the Republicans are on one side and the Democrats on the other.
In front of the Centre County Courthouse, you will find a statue of Andrew Curtin, perhaps the most prominent of the governors and certainly the hometown hero. Head one block south of the square to S. Allegheny St (PA 144) and Cherry Lane, here you will find the marker commemorating the birthplace of Governor Curtin.
From here, head up Howard Street to the Union Cemetery. This is the burial site of Governors Curtin, Beaver, and Hastings. Other notable figures buried here include Evan Pugh, the founder of Penn State University, and United States Senator Andrew Gregg.
Fact #9 – Bellefonte Has Always Been a Progressive Small Town
This may be one of the biggest surprises. This small town was on the leading edge of issues surrounding slavery and Civil Rights. With four documented stops on the Underground Railroad, Bellefonte was an important and prominent location en route to freedom.
Remember BAM, the art museum in Bellefonte mentioned earlier? Well, it was part of the network of residences that made up the Underground Railroad.
Later, Bellefonte took the lead on desegregation. In 1885, William H. Mills and 3 members from St. Paul AME church persuaded the Bellefonte School Board to integrate the public schools. Desegregation began two years later, making Bellefonte one of the earliest integrated school systems in the nation. This was sixty-seven years before the U.S. Supreme Court ordered the nation's public schools to do the same. School records show that in 1891 Charles Garner became the first black to graduate from Bellefonte's high school.
Not only was Bellefonte at the forefront of Civil Rights, but it was also out front on Women's Rights. On July 4, 1913, the women of Bellefonte took part in the March of the Vote, a nationally organized movement held shortly after the first suffragist parade in Washington, D.C. Anna Keichline, a Bellefonte resident led the town's march of local suffragists.
In addition to Keichline's work towards establishing voting rights for women, she was also Pennsylvania's 1st female architect. You can find examples of her designs in Bellefonte and the surrounding area. If that's not enough to impress you, she was also an inventor and World War I Special Agent. She must have been a force to be reckoned with in her day.
Things to Do Related to Bellefonte's Roll in Civil and Women's Rights
The third floor of BAM, located in the Linn House is devoted to this piece of the home's history and offers a hint into the conditions which freedom-seeking slaves endured for that outcome. Even if you don't visit for the art (and you should), if this bit of Bellefonte history interests you, you will want to visit. This was originally intended to be a temporary feature at the museum but is now permanent.
Additionally, the Union Cemetery (East Howard Street), racially integrated in 1897, holds the remains of members of the "Army of James," an independent Union command made up of African American soldiers, led by Benjamin F. Butler during the Civil War.
Finally, while the Mills Barbershop no longer exists, you can find a historic marker at its original location honoring another piece of William H. Mills' legacy; his contribution to music history. The historical marker is at 213 W High St, between Water & Spring.
If Happy Valley appeals to you, then plan to visit Pennsylvania's Laurel Highlands, too. Just 2-hours away, it is home to PA's largest state park, Frank Lloyd Wright's Fallingwater, and more.
Where to Find Kiechline's Work
While touring the architecture of this town, be sure to check out the Plaza Theater, one example of Kiechline's designs. Additionally, there is a marker honoring her located at 126 W High St, Bellefonte, just off the square.
Fact #10 – Bellefonte is a Town of Firsts
It might surprise you to learn that a number of articles that were once everyday items were invented in Bellefonte, including the voting machine, the typewriter, and safety matches. Aside from the voting machine, these items are not as prevalent in today's society as they once were but for their time, they were important innovations.
Additionally, this small town was a critical location in the early days of airmail deliveries. On December 18, 1918, the first scheduled westbound airmail flight out of New York City destined for Chicago and piloted by Leon D. Smith, made its initial stop in Bellefonte. From 1919 to 1927 Bellefonte was a major refueling stop for airmail traveling this route.
Things to See and Do Related to Innovation and Aviation in Happy Valley
Sightseers can visit the original match factory located a little outside the downtown area. Today the building houses the American Philatelic Society (the study of postage stamps and postal history). Not far from here at Willowbank St (PA 150) at Phoenix Ave., you will find its historical marker.
Visitors wishing to learn more about these early aviators or to visit the airfield will need to travel just a touch out of town. There is a historical marker located at the high school on E Bishop St (PA 550) at S School St.
Where to Stay in Happy Valley
In State College
Once a dormitory, the Scholar has been transformed into a trendy hotel that is part of the Hilton Tapestry Collection. Situated just off campus the location is fantastic for exploring downtown, access to dining and shopping as well as all those great museums on campus. Make the Scholar your base for a Penn State Football weekend.
In Bellefonte
Our Fair Lady. is a Victorian beauty featuring original hardwood floors, pocket doors, and stained glass details. The rooms are well-appointed and quiet.
The location of this lovely Bed and Breakfast is within walking distance of downtown making it ideal. Park your car in the off-street lot and explore on foot.
You won't find better hospitality anywhere. The hosts, Bob and Tami are wonderful. They are so helpful. In addition to being gracious hosts, Tami is an excellent cook.
The Queen, A Victorian Bed & Breakfast located within the historic district, this Queen Anne style Victorian BnB offers hospitality, nicely appointed rooms, and a scrumptious breakfast. Nancy, the gracious host is a wealth of knowledge about the community, among other things such as gardening and antiques. And she's happy to share all that information with her guests at no charge.
Gardeners will truly appreciate Nancy's lovely gardens. If you are visiting in fair weather I recommend taking your coffee and breakfast on the patio where you will be surrounded by a little patch of heaven. And if you are lucky you may even find some of Nancy's own freshly picked berries included with your meal.
Like this Post?? Share it Now!